First, just picture it.
No seriously you guys, you're really gonna need to actually use your imagination, because I haven't figured out yet how to add tabs on my blog. I mean, yeah, I have a couple of pages, but I haven't sorted out the logistics, so anything I post is just added onto the existing post, thus creating The Longest Post in History. But you don't care about all these details, do you? Nope. You don't. I don't blame you. I almost don't, or at least I don't care quite enough to do anything about it.
Yet. Just wait. No really, you're probably gonna have to wait.
See, what I want to do is have this be all awesome and my website. I want a page dedicated to clothes and style and, of course, shoes. I very much enjoy these things (especially shoes) and would like to pull together some style notes. I have many Instagram photos of my lower outfits. It's hard to take a full-body selfie that captures my outfit, so generally, it's a photo from my middle down. Hey, you do what you can, right?
On another note, do you know how much I love Pinterest? I do. Hint: It's a lot. 7,198 pins a lot. Oh, wait—7,199. See? See what happens? What a great site. I love that I can be a hoarder of beautiful things without actually hoarding them. This site has literally changed my life. Or at least my style. I will happily admit that between Pinterest and my trip to France last year, my style has evolved into something that is definitely Bay (and whoever else has pinned my gazillion same pins).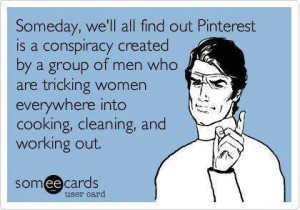 I sort of feel like anyone who has gotten engaged, gotten married, decorated a home or ever done pretty much anything ever, prior to the dawn of Pinterest, should get a redo. Not because I would change my wedding—it was perfect!—but I would do other extra crafty things and it would be amazing. I would paint chevrons on my office walls and add glitter to my bathroom paint. I would bake cake pops and decorate them like miniature pumpkins and I would finally know what to do with my hair.
I love it. Though, one thing I don't love is the misguided, but probably well-intentioned weight-loss motivation. "Nothing tastes as good as skinny feels," is lame. Come on. There are lots of good ones, but I wish my Pinterest peeps would just can it with the weight-loss pins and all the "amazing" before and afters.
Now I'm going to go look at my Creatures board. You might want to, too. If you like The Cutest Animals in the World. Or not. Your choice (what's wrong with you? Look at the cute animals I have pinned!).