Hey, so I totally forgot to share with you a disclaimer with you yesterday:
In service of my not kowtowing (look, a word-of-the-day for you!) to my survival mechanisms, all of which are aimed at glossing things over with a glaze of perfection (who me? a perfectionist? Pshaw. <<this face>>), I'm setting out on a new practice of not revising posts for a while. This means that there will be some mistakes.

Believe me, this will hurt me more than it does you. Leaving mistakes in my writing makes me want to throw up. Or at least cringe. Anyway, there you have it. Feel free to let me know there are errors, so I really learn my lesson (about letting things be and being with things as they are, including myself).
Okay, moving on. Last night, I was at my sister's place and it was really warm, so I left my windows open. This, by itself, is not so extraordinary, but I had earlier read a Facebook status by a friend who was commenting on this year's crop of early-bird and abnormally large wolf spiders that are beginning their fall migration into the homes and imaginations of arachnophobes like myself.
I do not like spiders. I do not like them one little tiny bit. I don't care what purpose they serve in the grander scheme of things: They are freaky and gross and disgusting and have way the hell too many legs and eyes and they creep and they crawl and they get into places and they're gross (needs to be said twice) and I hate them. This image nicely sums up how I feel about spiders that have trespassed into any space that I may at any time inhabit: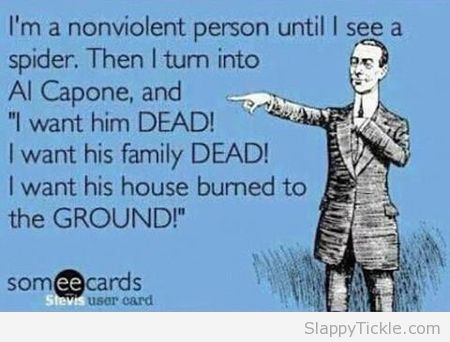 Why this matters is because while I was driving home, I thought to myself, just for fun, "Hey, what if a spider crawled in here while the windows were open?"
And then I promptly felt as though there were spiders all over me and thought about how I would likely cause a massive accident when it crawled up my leg and wouldn't that look stupid on the police report. I wonder if insurance covers acts of God Satan (because spiders are clearly evil and therefore NOT God's creatures)…
So, because I'm a rational and responsible adult, I put my indicator on and pulled over so that I could inspectigate my potentially spider-ridden scenario. This is when I discovered that the interior light in my car doesn't really light up very well below the seat and the only possible remaining solution was to drive home quickly (though safely) and abandon the car and never drive it ever again.
What other solution could there be? I need a new car…
Also, in case you were worried, I did not have a car accident.