You may have noticed that my blog has changed. You, Friend, are very perceptive. I decided, in light of my recent perspective shifts, that the View From the Bay should shift also. It's a sleeker, more grown-up look, just like me. Ha! Just kidding. I've been wanted to swap it up for a while, because I didn't like how narrow the text column was, which is irksome to my eye and most likely to yours as well. I like to write and I don't need my posts seeming optically to be longer than they already are.
As for me being all changed and whatnot, well, that part's true. Though, strangely, I'm quite at peace with myself. Not that I was expecting to go all "cray" and act out in my internal struggle, cutting my hair with rusty kitchen scissors in a fit of angst. Yes, that is from a country song. It's been kind of like a breakup.
Don't worry, though; we don't even have rusty kitchen scissors. That's just unsanitary.
The thing is, I am changed. Pretty profoundly. And to be honest, I struggled against it (clearly, as my last post conveyed). I didn't think I could change me without losing me, if that makes sense. Instead, I'm pleased to learn that I'm still me, just more of me. Unfiltered, though not completely, by any means. A little more true. There was no loss that cost me anything I didn't want to lose. It's like being hypnotized: No one can really make you do anything you don't want to do. I'm not saying I'm perfect (though I am, and so are you), at least not in terms of my journey. I'm pretty sure I've only dipped my toes in, and I've got a long way to go. I think that's what life is about. It'd be pretty boring if I was on the top of my game with nowhere to go already.
I love this quote by R.W.E. and I'm pretty sure he didn't mean this was something you just do once:
Make the most of yourself, for that is all there is of you.
– Ralph Waldo Emerson
I'm a little surprised to see that life goes on as it did before. I don't mean to sound all dramatic (though I realize I often do, but let's face it: I'm a star), but honestly, it's like the sky should be, or could be, a different colour. It's not, but I will say I can appreciate the sky in whatever shade it shows up, without thinking about what it should be, so that I can have something to resent. I spent a lot of time shaking my fist at the sky, chastising it for not being something other than what it was.
And, if you think I'm just talking about sunshine and blue skies here, you're missing the point. I've spent a lot of time experiencing my entire life and my relationships with people, animals, inanimate objects and fairy tales, through what they should be, or should have been or not been. It's exhausting and let me tell you how well that was working out for me: Not so much. Unless you count me having the right to be angry and disappointed all the time. Not exactly a blue-ribbon life, huh?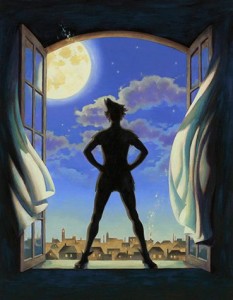 As for my old question, well here it is:
What do I want to be when I grow up?
Thing is, I'm still not sure. It's really frustrating and it's a question that's plagued me for a long time. In my full-time business of making every little thing so gawd-damned significant, I've been utterly paralyzed. I've stayed where I don't want to be, afraid to answer the question with anything but "I don't know". I'm not sure who I expect to have the answers to what I'd like to be when I grow up, but clearly, it wasn't me.
Maybe I'm going to be many things. Maybe moving on doesn't have to be so bloody significant. Maybe I move on to something and it's the wrong something, and I move on again. Maybe I mess up and go backwards. So far, nothing in my life has done anything but add to who I am today, so why don't I pry off those fingers of fear that have been holding me back?
I'm trying. I often wear a necklace that Adam bought me for my birthday (he bought me Runaway Girl for a wedding present—subtle irony intended): It's the silhouette of a little girl wearing a cape. I love her fearlessness and her can-do attitude. Maybe it's time I try my cape on, instead of just talking about it. Time to actually try something, instead of worrying about whether it's going to work out. Because there's no way I can actually know that and staying put isn't working out for me so well, anyway.
Do you recognize any of this in yourself? Are you holding yourself back? What's in your way?