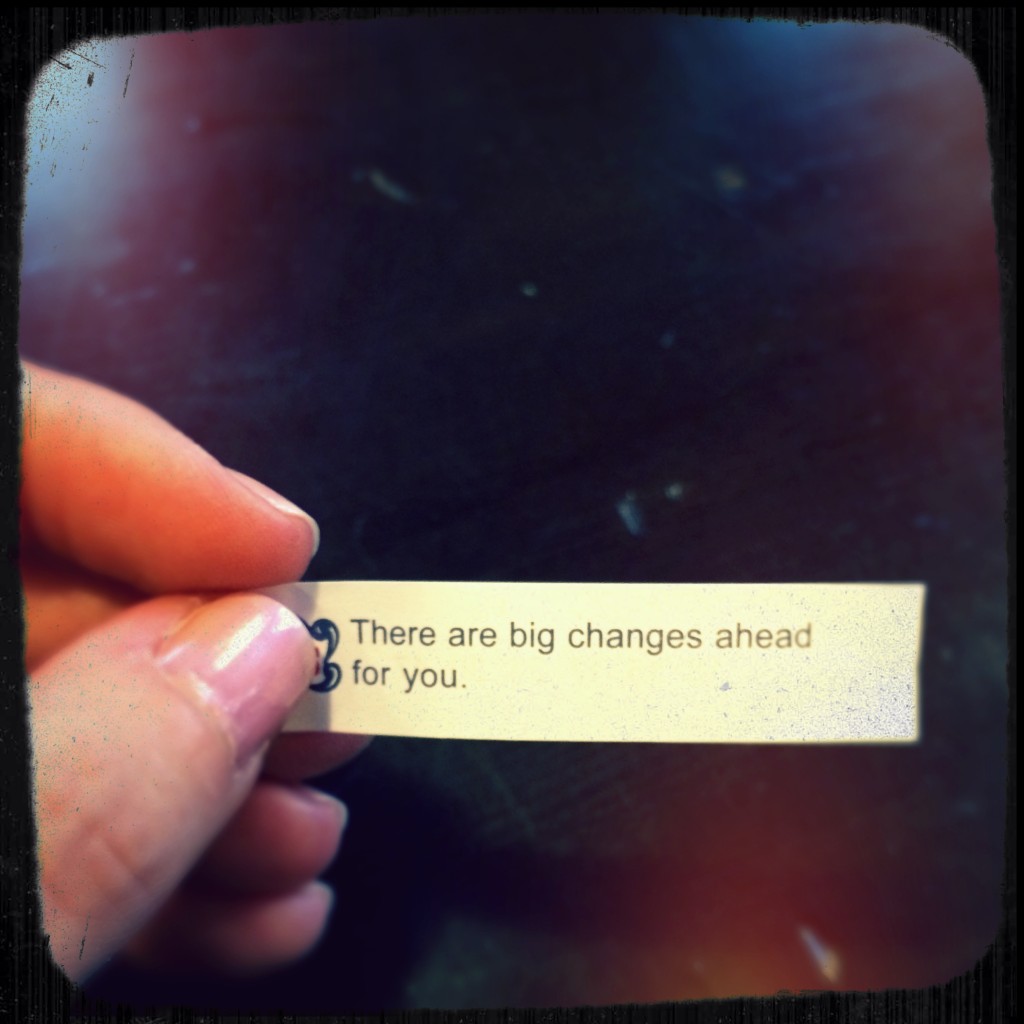 The above is the message that was in my fortune cookie yesterday. I don't normally ascribe a lot of meaning to the things I find in cookies or horoscopes, but this time, it made me smile. It's true: Things are a-changing over here in my world.
It's been a long time, My Blog. A long time, indeed. It's weird, how if I don't write anything on here, nothing happens on my blog. I need blog elves. Partly because then my blog would be updated and partly because then I'd have an elf, and that would be be pretty much the coolest frigging thing in the world.
At least this time, I have a good excuse for being incommunicado: Like I said, I've been busy making some big changes and some even bigger decisions. You probably know that I write over at www.evergrowthcoaching.com, the blog that Adam and I share for our coaching company. Coaching has been getting cooler and cooler and busier and busier, all of which is really good news. I'm loving the work I'm doing.
I less love working nine zillion hours a day, but I've been doing it (okay, more like 10–12 hours) in service of a cunning plan: I wanted to build my coaching practice so that I could go to part time at my job and eventually be self employed. It turns out that "eventually" was a lot sooner than I thought!
Long story made short, I have [at last] resigned my position with the provincial government/public service of British Columbia. This decision was a really big one for me. I'm talking throat-constricting-and-gasping-panic-attacks-while-jogging kind of big decision. Not-sleeping-and-tossing-and-turning-coated-in-cold-sweat kind of decision. Several factors precipitated my choice and I immensely grateful for the whole experience: Without the stuff that went on, I would not have made the choice I've been wanting to make since, oh, before I began working with the provincial government.
I've always wanted to freelance, but couldn't figure out how to make it work. I didn't trust myself and I didn't trust the universe, either. Without doing the work to become a coach, and utterly transforming who I am being in my life and in this world, I am pretty sure that I wouldn't have been able to choose to let go of my desperately clasping hands and step outside of my comfort zone. Thank God I let go.
Now, I am not a person who would describe herself as brave. I've always been a timid little thing, from the time I was, well, a timid little thing. I know I've done a lot of things that were atypical or different, but for the first time ever, I really, really understand that courage isn't the absence of fear; rather, it is something that is created when you face your fear and move forward anyway.
I am so excited for what's ahead. I'm exhilarated. Every now and then, I'm afraid, too, just to keep it interesting. What I learned this week, and shared with my team (I'm a mentor coach in Seattle—so much has happened since I last blogged here!) is this:
It turns out that fear doesn't stop me from doing things: I do. It turns out, I can have fear and move forward anyway. Forward movement doesn't only happen in the sunshine.