I'm sitting in Starbucks, where I do my best work. That's not true, really. It's just that when I'm away, the wifi is the way I like it: Free. This time, I'm in San Diego. I'm bumming around while Adam is training coaches, which of course means I bought new shoes. They look like this (Jen: More shoes for collecting the eggs <<wink wink>>):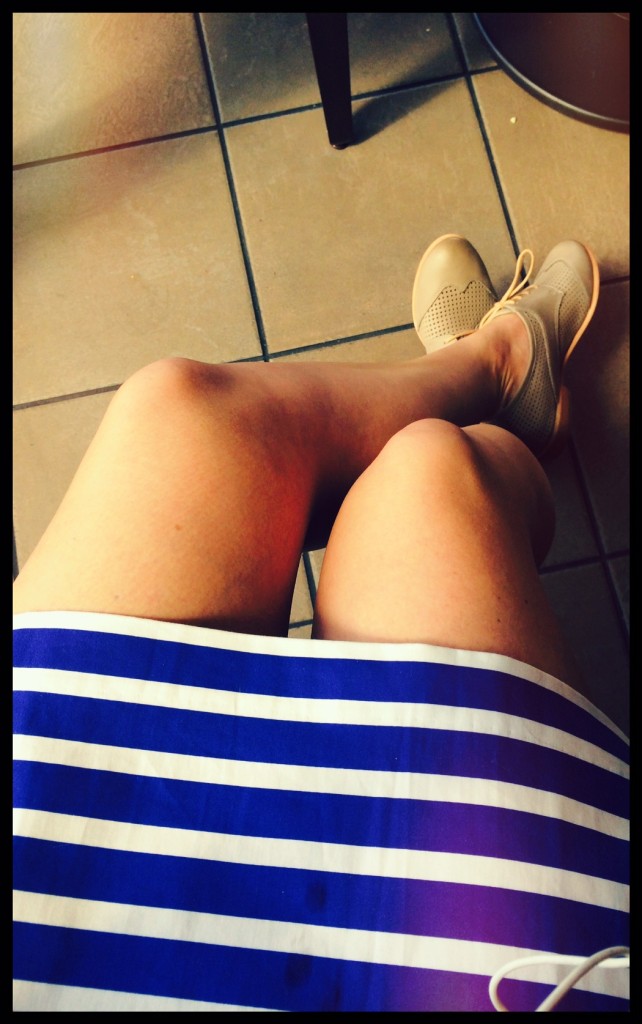 This Starbucks is awesome. So far, I've seen two chihuahuas and one cute and one bizarre-looking French bulldog come wandering in. There are lots of dogs here, which is good when you're missing your pets. I've also seen a girl wearing brown cowboy boots, star-printed jean cut-offs that showed the crease of her bum, a tank top with no bra (all of these things were really obvious. I wasn't being super creepy). The thing is, she looked great. I'm serious. Normally, I'm full of judgment and this time, I think I'm just wishing I could pull it off (I'm not going to try. I promise.). The best part? She just reached down into her boot to pull out her phone. Seriously. She's amazing. I think she might be Daisy Duke, if Daisy Duke were a pirate (I don't know why I think only pirates keep things in their boots, but there it is).
Anyway, I'm off to check out Seaport Village today. I picked a super-cute outfit and then spilled on it (if you look closely in the photo above, you can see the marks on my dress). Sigh. C'mon, Bay. Get it together. Tonight we head to LA, which sounds fancy, but really, Disneyland is the destination. I can't wait! It's SO much fun. Also? It's supposed to get up to 35º. It will be sweaty and magical in The Happiest Place on Earth.
It feels like time to catch you up on what's been going on, so here you go:
Wow. What a month April has been. Lots of ups and downs and most of them in breakdown. The good news is that when you're in breakdown, that means that a breakthrough is available and (hopefully) imminent. This is always much easier to remember when someone else is experiencing breakdown in their life than when it's your own. The less-good news is that being in breakdown sucks. Even more annoying is the fact that how much it sucks has little to do with the actual circumstances and a lot to do with how you're being about them. Needless to say, I've been being less than understanding about my breakdown, so it feels like my circumstances are making up the difference in enthusiasm. Awesome.
I'm coming to the end of this breakdown cycle, which is to say that I'm surrendering my resistance to Life and its shenanigans and trying out some compassion instead. This might sound obvious to you, but compassion is not something I can access too easily for myself, though I have it in spades for everyone else. When things get tough, I like to grit my teeth, pushing to work harder. It's kind of like when someone is talking to someone who doesn't speak English, so they say everything again, just louder. Super effective.
This compassion has looked like taking care of myself without calling myself a lazy slacker (a self judgment I clear daily): Taking the pressure off my projects (in a surprising turn of events, the extra judgment wasn't creating results. Huh.); getting enough sleep; getting my nails done, because it makes me feel good to have pretty fingers and toes; getting lots of exercise — running, cycling and yoga; long walks to enjoy the beauty of springtime; and lots of time to chill out.
Here's some of what happened this month:
I realized that my childhood resilience methods, while awesome and highly effective at the time, are no longer serving me. They haven't been for a long time, if I'm being honest. I'm taking responsibility for this stuff I haven't wanted to examine, so that I can decide what to do with it, instead of having it creep around in my blindspots.
I got angry at someone, instead of stuffing it, like usual. This doesn't mean I got into a fight or anything, but I got angry on purpose and I let off a little steam. Turns out, when you are the one choosing to allow the expression of anger (and, importantly, the manner in which it is expressed) no one gets hurt and you feel A LOT better. The issue isn't necessarily something I can change (as it requires the other person wishing to change it, too), but I can change the way I'm being about it. I can be a human about it, instead of a robot.
We lost Maui on Wednesday, April 23. This brings the sting of tears as I write it. I loved that cat. For 10 years, Maui's been a quirky and beautiful part of our little family. She was born on the first of April, so we like to think of her as our little April Fool's cat. She's been with Adam and I through some ups and downs along our way and I adore her. She's been faring poorly for a while now, with the decline starting slowly a couple of years ago. The long and short of it is that she was sick and she wasn't enjoying her life. So, we had to make the brave choice that was best for her and the rest of our family, even if it is the hardest decision to make. I will always love her and I will always be grateful for her soft and gentle affection that she only shared with us. I'm also grateful for the opportunity to hold her safely surrounded by love in my arms as we said farewell and she went to sleep. We'll see you at the Rainbow Bridge, Maui. xoxo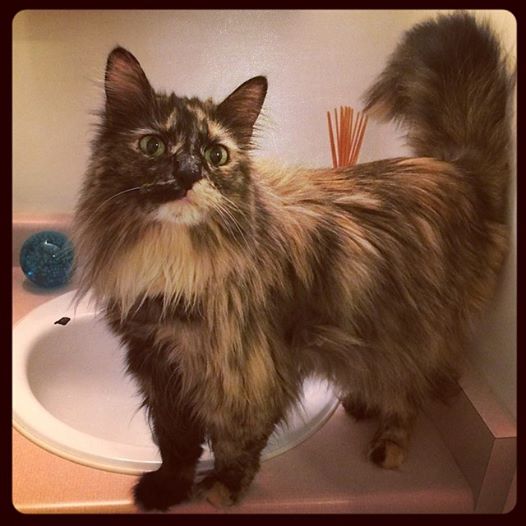 It hasn't all been difficult and sad. Case in point: I learned how to cut a mango. This was practically an epiphany. Usually, cutting these delicious tropical treats is a messy and disorganized affair and every time I slice massacre one, I think to myself, "There has got to be a better way to do this."Obviously it was not a big issue, since it never occurred to me to use any of the plethora of resources at my fingertips to discover a better way. But then! One day, last week, I decided I'd slice one the way you see pictures of mangoes on smoothy bottles, because I'm wild and free and that's just the way I roll. HOLY CRAP! They show it like that because it's SO MUCH EASIER to cut up a mango that way! I'm a genius (sort of)!
Oh, and I bet some of you wonder how I'm doing since I left my job with the government. I'm doing great. No regrets, whatsoever. I knew I wouldn't have any, but some of you may have wondered. I'm happy to report that being self-employed, no matter how scary and unsure it can sometimes feel, is definitely the right path for me. I'm clear that coaching is what I want to do, instead of pretending it's one of the many things I want. There are still lots of things I want to do, but I can say I'm a coach without worrying that I need some back-up plan or safety net to keep people (read: Me) from worrying about my future.