I have a dirty little secret, apparently. Or maybe it's a pretty one. Who knows. All I know is that somewhere along the way, it has become wrong to like Disney princesses, or so I've been (repeatedly) told.
Oh yes, I'm on a soapbox. And, oh yes, this soap may smell a little bit pretty.
What's wrong with a little princess (pun intended)?
Everywhere I look, there's some article or person telling me that liking Disney princesses further solidifies the objectification of women and our shocking adherence to culturally specific (or non-specific) ideals of beauty. I've read that little girls have become negatively impacted by these idealized and impossible to attain concepts of beauty.
The debate rages with some fairly aggressive opinions, as though Disney is a reaper of souls, hell-bent on collecting little girls' impressionable young minds like the witch in Hansel & Gretel's gingerbread house collects children for dinner.
Good grief. I like Disney princesses because they are fairytales. Movies and stories I grew up with. They're familiar and nostalgic and what? I LIKE FAIRYTALES OKAY? LET ME LIKE MY STORIES. GEEZ-AAAAH!
And Disney didn't make them up (well, not all of them): The Brothers Grimm did (well, some of them). And, just for the record, while I have heard people complain that Disney took all the reality out in the same breath as complaining that the heroes and heroines are too attractive, I will assert that people would have a lot more to complain about if their precious Jennys and Johnnys were aghast at images of Cinderella's stepsisters looking "more normal" while they CUT OFF THEIR TOES AND HEELS, SHOVING THEIR LITERALLY BLOODY FEET INTO THE GLASS SLIPPER TO FOOL THE PRINCE. Yep, I went there.
It's a bit confusing to me. I mean, I grew up with these movies and fairytales, which I read in books (the scary originals—egad!). I lived in the ballet world, which is culture, right? So this Sleeping Beauty is okay, but this one isn't? Guess which one messed with my body image and positive self concept (hint: It isn't Disney). These movies were interpretations of stories. I don't roam through my life wondering why I'm not actually a royal (well, maybe I do, but that didn't start with Disney). Sure, I also wish I could fly, but I'm not in therapy because I'm angry at Peter Pan.
I mean, seriously. Do we honestly have so little to worry about these days that we are now attacking fictional characters? Because, here's the thing: These are make-believe people. It is very clear to me that they are cartoons. Somebody DREW them. With a pen. I liked to watch these movies when I was little (okay, I watch them now), but I didn't expect my pets to start conversing with me (at least not in English) and, unless I'm here and I'm wearing mouse ears, I don't walk down streets expecting to see this: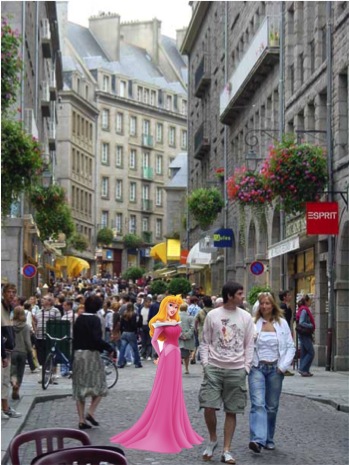 Two points:
I have noticed that increasingly, we worry that TV, movies and video games are causing people to distort their reality.

Just for the record, billions of people have watched cartoons, movies and played video games without misunderstanding that what happened on that screen in front of them was, in fact, The Real World.
While people insist that people are being swayed by the fictional images they see, we are ignoring the fact that we are all responsible for our actions, and when we are children, it is OUR PARENTS/TEACHERS/COMMUNITY, not Disney, who we should be depending on to teach our children real-time, real-life values.

Maybe if we stopped pointing the finger and blaming others for not doing what we should be taking on and took some responsibility, we wouldn't let so much rest on screen-based entertainment and we could just let kids enjoy them. Gasp.
The cartoons, movies and video games are ENTERTAINMENT, not babysitters or teachers, though I do think we can learn from them, too. I also think we get to choose how we react (much like with the Dove commercial) and I guess I tend to go with the positive, instead of actively seeking out more crap to be upset about (call me simple; I call me happy). Those people can feel free to keep picking something to be unhappy about, but I'll go with this: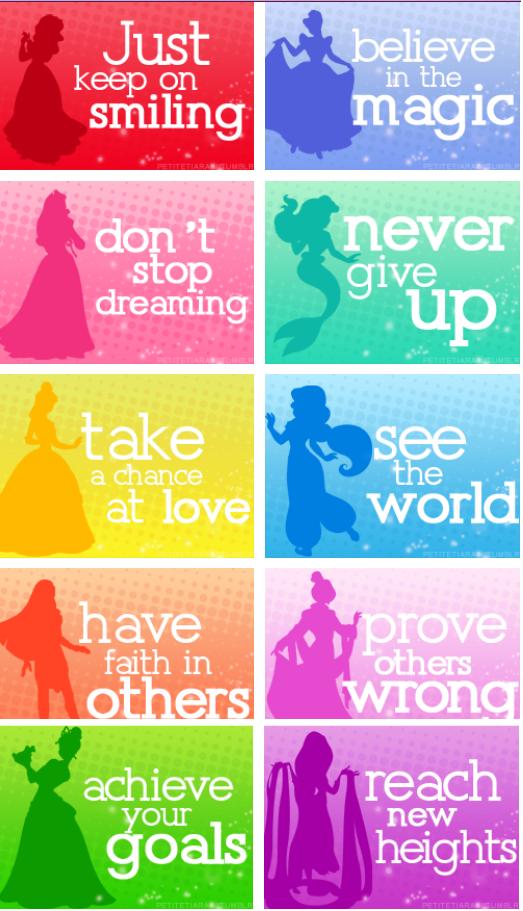 I can't help but think that perhaps there are bigger issues with which we could wrestle. Like, oh, I don't know, WORLD HUNGER/INEQUAL DISTRIBUTION OF FOOD AND WEALTH, FIGHTING IN THE NAME OF RELIGION, LACK OF MEDICAL ACCESS (after all, we can thank greed for the fact that TB is now back with a vengeance)… You know, just to name a few.
But no: We're going to take down some colourful cartoon characters, who are, ahem, MAKE BELIEVE. Like Ewoks (no one says I can't like an Ewok, but they're not realistic, either. Just sayin'…).
And honestly, I can't help but sniff out a little bit of hypocrisy: Are those that tell me I'm obliviously ascribing to what society tells me is beautiful really telling me I am wrong for liking them? Oh, tell me more about what I should like instead. So, I can only like what they say is beautiful, as opposed to what other "theys" say? I'M SO CONFUSED: WHOSE DEFINITION OF BEAUTY AM I MEANT TO BELIEVE? Oh, right: Mine. I can also find different things attractive (in case you thought I only find beauty in Disney characters).
What of these angry (annoyed? frustrated?) people who dislike Disney princesses for perpetuating stereotypical concepts (made by, um, us): Do they dislike real-life people who fit that same mold? Are typically attractive people bad for our children's impressionable young minds? Are they nothing more than their looks? Wouldn't that be a negative and narrow-minded way to interact with people. How shallow. You see what I'm doing here, right?
Do I think Disney princesses are pretty? Yes. Do I feel miserable because I don't look like Cinderella? No. Though, I do like her shoes (more to come on that, my friends. I know you can't hardly wait.). And I wish all animals were my BFFs, like Snow White's. And sure, maybe my hair would be more organized if a bunch of little birds styled it.
Besides all that, I kind of think each of those princesses embodied some pretty cool traits: Loyalty, Honesty, Optimism, Bravery. I could go on. And don't get me started on Merida's makeover and the controversy over how she looks (SHE'S A DRAWING, PEOPLE—RELAX).
You know why cartoonists draw sexy or attractive characters (they do it for the males, too, by the way)? BECAUSE THAT IS WHAT WE, AS CONSUMERS, WANT. It's a two-way street. We get what we ask for, like so much else in life.
To be honest, all the people I know (girls/women specifically) who really love Disney or did when they were younger, are pretty impressive women. They haven't sat on their tuffets and cried that they needed a knight in shining armour. They've gone out and made this world a better place. So did the Disney princesses, in my opinion. They made me happy, too.
So, I've decided that I get to choose what I like, regardless of why. How backwards of me. 😉
Thank you, Disney: I love your stuff. Thanks for making make-believe so fun.